Are you a do it yourself-er?
CSM is excited to announce that we are stocking a large variety of equipment including everything you'll need for your installation.
HVAC Contractors in Farmington, NM
Comfort Solutions Mechanical is the premier provider of HVAC repairs and heating and cooling services to the Four Corners area. Our experienced HVAC contractors specialize in custom design, based on your budget and needs, allowing you to get the comfort you deserve, at a price you can afford. With over 35 years of experience, we'll help design your new system to fit your home perfectly!
Premier HVAC Installation, Repair, Service & Preventative Maintenance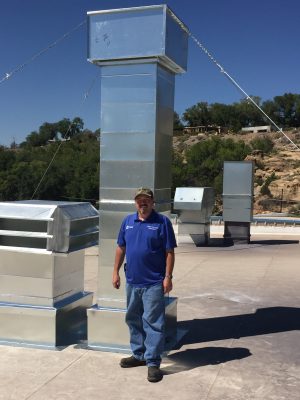 When your home's heating, cooling or ventilation isn't performing up to your expectations, your quality of life suffers. At Comfort Solutions Mechanical, we believe that you should always be comfortable in the place where you live, which is why we provide the entire range of HVAC repair in Farmington, NM and deliver nothing short of superior, sustainable results when we're through. From problems with your heater to air conditioning woes, minor repairs to major retrofits or installations, know that you can count on us to provide exceptional service time and time again! You deserve the be comfortable in your own home. Let the pros at Comfort Solutions Mechanical get YOU in the "Comfort Zone".
What sets Comfort Solutions Mechanical apart from other HVAC contractors in Farmington, Napi, Aztec, Bloomfield, Flora Vista, Kirtland, and La Plata, NM is the level of expertise, experience and dedication we bring to the job. The level of expertise, experience and dedication we bring to the job. Not only are we a YORK Liberties Plus Dealer, we're also an authorized contractor for Mitsubishi Mini-Ductless Systems, and an authorized Trane contractor. We put our trust in only the best products and have an expert familiarity with them. So, whether you need a simple 23-point inspection of your HVAC system to determine its efficiency and quality, or you're looking to improve your home with service, repairs or installations, know that Comfort Solutions Mechanical is here to provide nothing short of exceptional results. Contact us now to learn more about us and our services!
The TOP Equipment Warranties in the business!
10-year Compressor Limited Warranty*
10-year Parts Limited Warranty*
10-year Supplemental Electric Heat Limited Warranty
1-year Labor Limited Warranty
Plus We offer YORK – Comfort Care Plans that have a 10-Year Labor Warranty
In-Home Estimates – New or Replacement Systems Quotes are Free
Custom Sheet Metal Fabrication – By expert Sheet Metal Fabricators
Custom Metal Cutting with our CNC Plasma Machine
Over 35 Years of professional experience as HVAC contractors
Custom Designed Systems & Solutions – To meet YOUR unique HVAC needs
Competitive, Fair, & Up-Front Pricing – Just ask our customers….we get great recommendations
Comfort Solutions is your one-stop HVAC contractor for all your HVAC needs! Proudly serving Farmington NM, and surrounding areas, including:
Shiprock NM
Cedar Hill NM
Aztec NM
Bloomfield NM
Navajo City NM
Dulce NM
Little Water NM
White Rock NM
Hesperus CO
Hermosa CO
Bayfield CO
Durango CO
And Many more!
Interested in Joining Our Amazing Team?